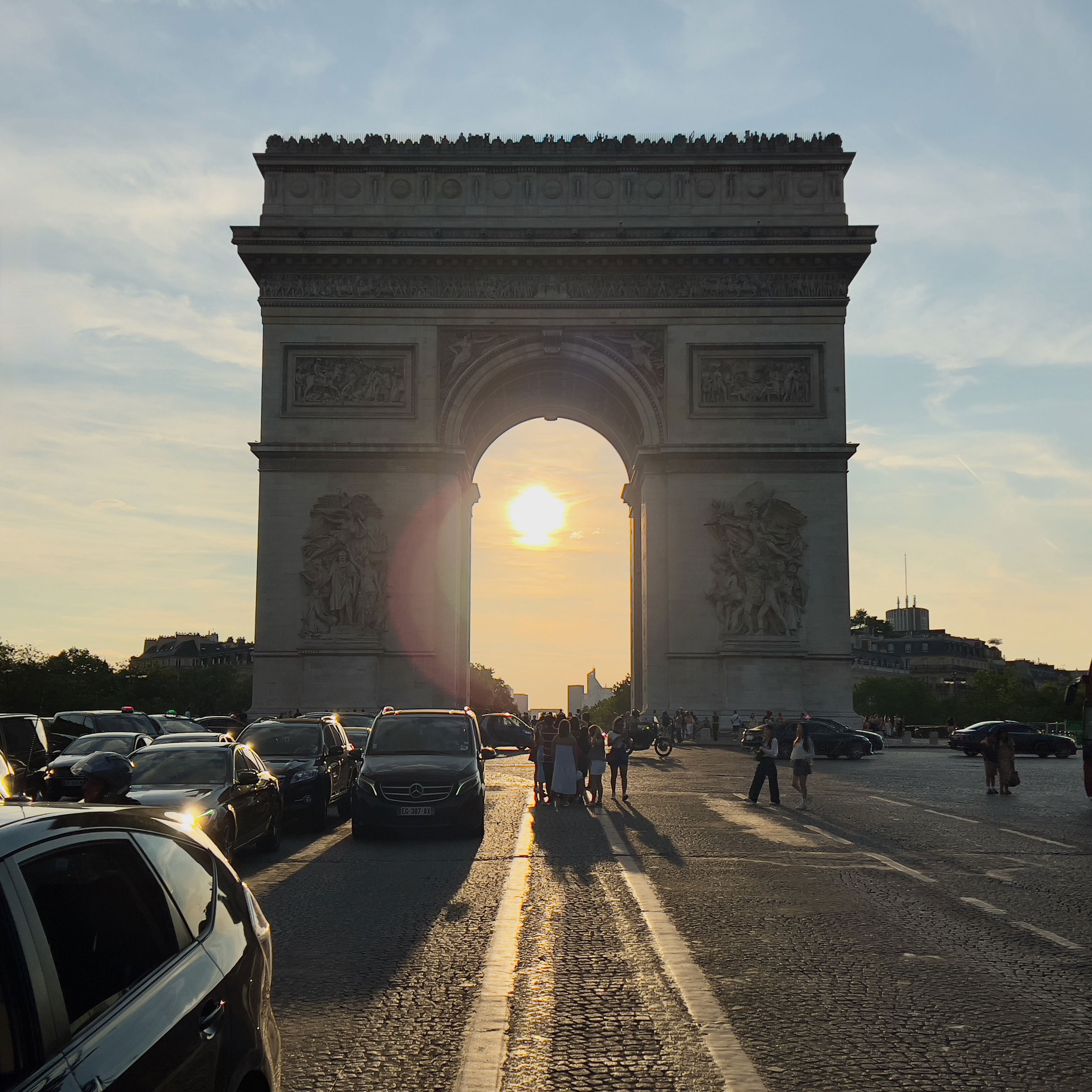 A picture looking straight-on at the Arc de Triumph in Paris, France. The Sun is in the middle of the arch, albeit off-centre.
I would've fixed that in post but my RAW editing skills aren't great and it would've been two obvious.
---
This picture was shared by bye 5 months and 1 week ago.
JPG iPhone 13 Pro 3024 × 3024
EXIF Explorer

| | |
| --- | --- |
| File Type | JPEG |
| File Type Extension | jpg |
| MIME Type | image/jpeg |
| JFIF Version | 1.01 |
| Exif Byte Order | Big-endian (Motorola, MM) |
| Photometric Interpretation | Linear Raw |
| Make | Apple |
| Camera Model Name | iPhone 13 Pro |
| Orientation | Horizontal (normal) |
| X Resolution | 72 |
| Y Resolution | 72 |
| Resolution Unit | inches |
| Software | 17.0 |
| Modify Date | 2023:06:23 20:46:36.458+02:00 |
| Y Cb Cr Positioning | Centered |
| Exposure Time | 1/16393 |
| F Number | 1.5 |
| Exposure Program | Program AE |
| ISO | 50 |
| Exif Version | 0232 |
| Date/Time Original | 2023:06:23 20:46:36.458+02:00 |
| Create Date | 2023:06:23 20:46:36.458+02:00 |
| Offset Time | +02:00 |
| Offset Time Original | +02:00 |
| Offset Time Digitized | +02:00 |
| Components Configuration | Y, Cb, Cr, - |
| Shutter Speed Value | 1/16393 |
| Aperture Value | 1.5 |
| Brightness Value | 11.9201889 |
| Exposure Compensation | 0 |
| Metering Mode | Spot |
| Flash | Off, Did not fire |
| Focal Length | 5.7 mm (35 mm equivalent: 33.0 mm) |
| Subject Area | 1410 934 746 751 |
| Run Time Flags | Valid |
| Run Time Value | 9354937614041 |
| Run Time Scale | 1000000000 |
| Run Time Epoch | 0 |
| Acceleration Vector | -0.9834368227 -0.005462520753 0.1455975324 |
| Warning | [minor] Bad format (16) for MakerNotes entry 13 |
| Sub Sec Time | 458 |
| Sub Sec Time Original | 458 |
| Sub Sec Time Digitized | 458 |
| Flashpix Version | 0100 |
| Color Space | sRGB |
| Exif Image Width | 4032 |
| Exif Image Height | 3024 |
| Sensing Method | One-chip color area |
| Scene Type | Directly photographed |
| Exposure Mode | Auto |
| White Balance | Auto |
| Digital Zoom Ratio | 1.281355977 |
| Focal Length In 35mm Format | 33 mm |
| Scene Capture Type | Standard |
| Lens Info | 1.570000052-9mm f/1.5-2.8 |
| Lens Make | Apple |
| Lens Model | iPhone 13 Pro back triple camera 5.7mm f/1.5 |
| XMP Toolkit | XMP Core 6.0.0 |
| Creator Tool | 17.0 |
| Lens | iPhone 13 Pro back triple camera 5.7mm f/1.5 |
| Date Created | 2023:06:23 20:46:36 |
| MPF Version | 0100 |
| Number Of Images | 2 |
| MP Image Flags | (none) |
| MP Image Format | JPEG |
| MP Image Type | Undefined |
| MP Image Length | 637509 |
| MP Image Start | 1577562 |
| Dependent Image 1 Entry Number | 0 |
| Dependent Image 2 Entry Number | 0 |
| Image Width | 3024 |
| Image Height | 3024 |
| Encoding Process | Baseline DCT, Huffman coding |
| Bits Per Sample | 8 |
| Color Components | 3 |
| Y Cb Cr Sub Sampling | YCbCr4:2:0 (2 2) |
| Run Time Since Power Up | 2:35:55 |
| Aperture | 1.5 |
| Image Size | 3024x3024 |
| Lens ID | iPhone 13 Pro back triple camera 5.7mm f/1.5 |
| Megapixels | 9.1 |
| Scale Factor To 35 mm Equivalent | 5.8 |
| Shutter Speed | 1/16393 |
| MP Image 2 | (Binary data 637509 bytes, use -b option to extract) |
| Circle Of Confusion | 0.005 mm |
| Field Of View | 57.2 deg |
| Hyperfocal Distance | 4.17 m |
| Light Value | 16.2 |