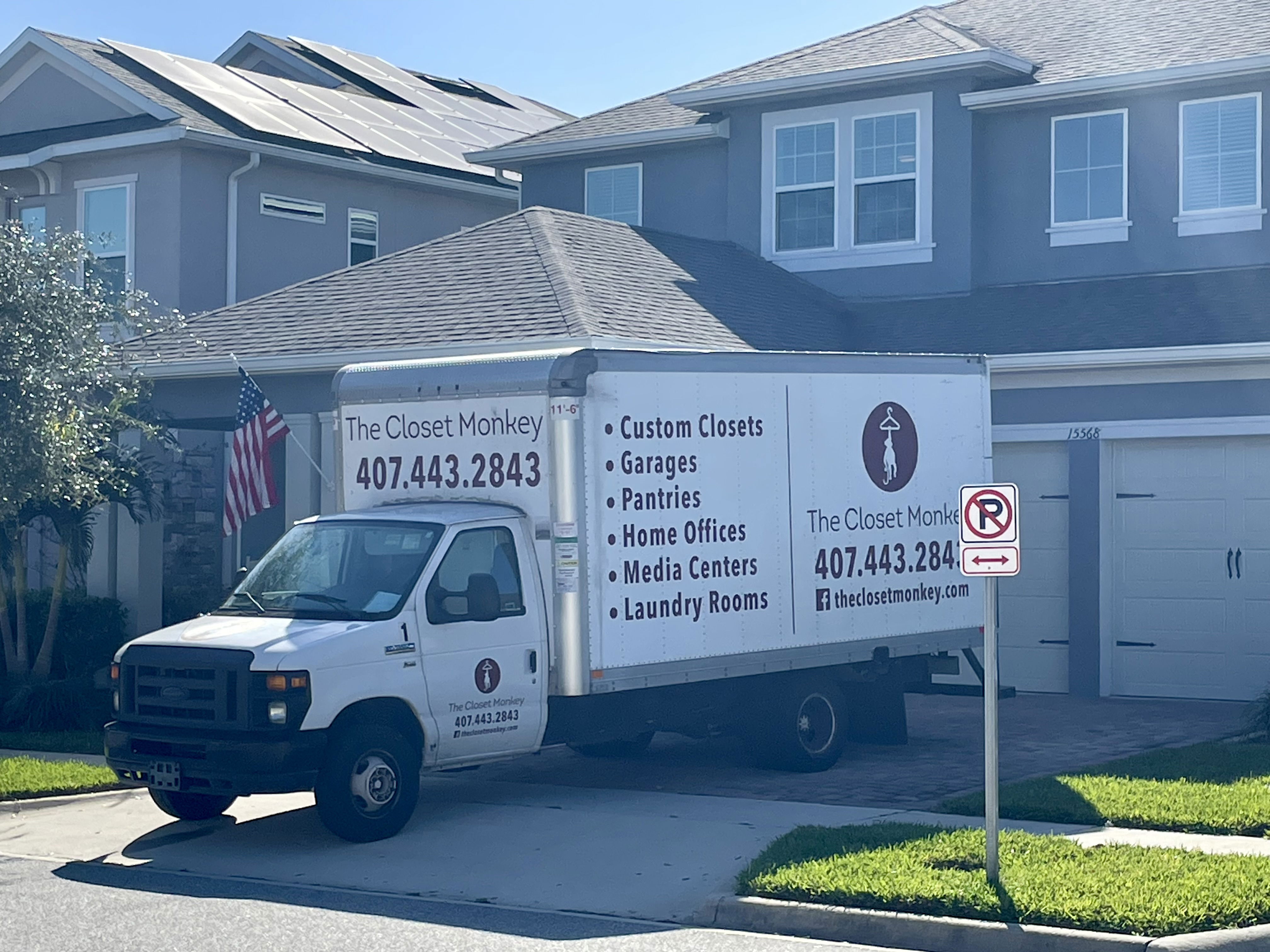 While out walking my wonderful dog Addy this afternoon, I saw this service vehicle parked in the driveway of a neighbor's property that is getting some work done. The business is using the domain name TheClosetMonkey.com and is based in Orlando, FL.
They build custom closets and other storage solutions for homes and businesses.
Their Facebook page has over 1,000 likes and a 4.8 star average rating based on 59 reviews at the time of this writing.
---
This picture was shared by croc 6 months and 3 weeks ago.
JPG iPhone 12 mini 4032 × 3024
EXIF Explorer

| | |
| --- | --- |
| File Type | JPEG |
| File Type Extension | jpg |
| MIME Type | image/jpeg |
| JFIF Version | 1.01 |
| Exif Byte Order | Big-endian (Motorola, MM) |
| Make | Apple |
| Camera Model Name | iPhone 12 mini |
| Orientation | Horizontal (normal) |
| X Resolution | 72 |
| Y Resolution | 72 |
| Resolution Unit | inches |
| Software | 16.2 |
| Modify Date | 2023:01:31 10:29:53-05:00 |
| Host Computer | iPhone 12 mini |
| Tile Width | 512 |
| Tile Length | 512 |
| Y Cb Cr Positioning | Centered |
| Exposure Time | 1/5291 |
| F Number | 1.6 |
| Exposure Program | Program AE |
| ISO | 32 |
| Exif Version | 0232 |
| Date/Time Original | 2023:01:31 10:29:53.681-05:00 |
| Create Date | 2023:01:31 10:29:53.681-05:00 |
| Offset Time | -05:00 |
| Offset Time Original | -05:00 |
| Offset Time Digitized | -05:00 |
| Components Configuration | Y, Cb, Cr, - |
| Shutter Speed Value | 1/5291 |
| Aperture Value | 1.6 |
| Brightness Value | 10.40458019 |
| Exposure Compensation | 0 |
| Metering Mode | Spot |
| Flash | Off, Did not fire |
| Focal Length | 4.2 mm (35 mm equivalent: 67.0 mm) |
| Subject Area | 2616 3066 1964 2053 |
| Run Time Flags | Valid |
| Run Time Value | 43223049281291 |
| Run Time Scale | 1000000000 |
| Run Time Epoch | 0 |
| Acceleration Vector | 0.9801019435 -0.007863026114 0.06254261729 |
| Warning | [minor] Bad format (16) for MakerNotes entry 14 |
| Sub Sec Time Original | 681 |
| Sub Sec Time Digitized | 681 |
| Flashpix Version | 0100 |
| Color Space | Uncalibrated |
| Exif Image Width | 4032 |
| Exif Image Height | 3024 |
| Sensing Method | One-chip color area |
| Scene Type | Directly photographed |
| Exposure Mode | Auto |
| White Balance | Auto |
| Digital Zoom Ratio | 2.615916955 |
| Focal Length In 35mm Format | 67 mm |
| Scene Capture Type | Standard |
| Lens Info | 1.549999952-4.2mm f/1.6-2.4 |
| Lens Make | Apple |
| Lens Model | iPhone 12 mini back dual wide camera 4.2mm f/1.6 |
| Composite Image | General Composite Image |
| MPF Version | 0100 |
| Number Of Images | 2 |
| MP Image Flags | (none) |
| MP Image Format | JPEG |
| MP Image Type | Undefined |
| MP Image Length | 151419 |
| MP Image Start | 1867804 |
| Dependent Image 1 Entry Number | 0 |
| Dependent Image 2 Entry Number | 0 |
| Profile CMM Type | Apple Computer Inc. |
| Profile Version | 4.0.0 |
| Profile Class | Display Device Profile |
| Color Space Data | RGB |
| Profile Connection Space | XYZ |
| Profile Date Time | 2022:01:01 00:00:00 |
| Profile File Signature | acsp |
| Primary Platform | Apple Computer Inc. |
| CMM Flags | Not Embedded, Independent |
| Device Manufacturer | Apple Computer Inc. |
| Device Attributes | Reflective, Glossy, Positive, Color |
| Rendering Intent | Perceptual |
| Connection Space Illuminant | 0.9642 1 0.82491 |
| Profile Creator | Apple Computer Inc. |
| Profile ID | ecfda38e388547c36db4bd4f7ada182f |
| Profile Description | Display P3 |
| Profile Copyright | Copyright Apple Inc., 2022 |
| Media White Point | 0.96419 1 0.82489 |
| Red Matrix Column | 0.51512 0.2412 -0.00105 |
| Green Matrix Column | 0.29198 0.69225 0.04189 |
| Blue Matrix Column | 0.1571 0.06657 0.78407 |
| Red Tone Reproduction Curve | (Binary data 32 bytes, use -b option to extract) |
| Chromatic Adaptation | 1.04788 0.02292 -0.0502 0.02959 0.99048 -0.01706 -0.00923 0.01508 0.75168 |
| Blue Tone Reproduction Curve | (Binary data 32 bytes, use -b option to extract) |
| Green Tone Reproduction Curve | (Binary data 32 bytes, use -b option to extract) |
| Image Width | 4032 |
| Image Height | 3024 |
| Encoding Process | Baseline DCT, Huffman coding |
| Bits Per Sample | 8 |
| Color Components | 3 |
| Y Cb Cr Sub Sampling | YCbCr4:2:0 (2 2) |
| Run Time Since Power Up | 12:00:23 |
| Aperture | 1.6 |
| Image Size | 4032x3024 |
| Lens ID | iPhone 12 mini back dual wide camera 4.2mm f/1.6 |
| Megapixels | 12.2 |
| Scale Factor To 35 mm Equivalent | 16.0 |
| Shutter Speed | 1/5291 |
| MP Image 2 | (Binary data 151419 bytes, use -b option to extract) |
| Circle Of Confusion | 0.002 mm |
| Field Of View | 30.1 deg |
| Hyperfocal Distance | 5.85 m |
| Light Value | 15.4 |