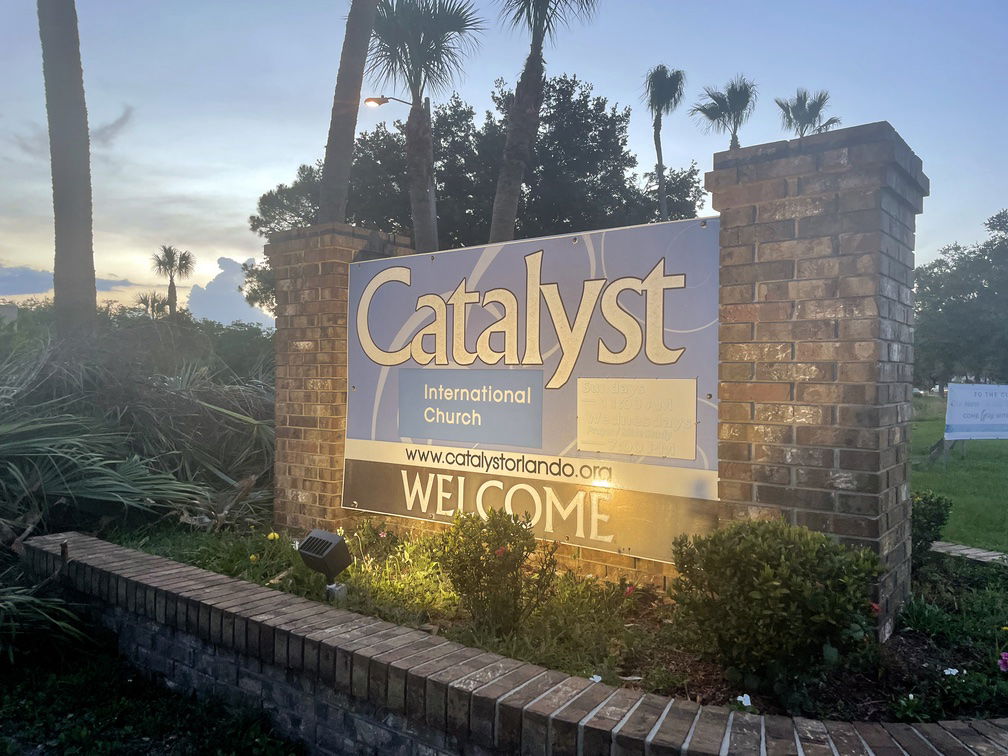 On my evening dog walk, I spotted the sign for a non-denominational church by the name of Catalyst in Orlando, FL.
They use the domain name CatalystOrlando.org and have a really beautiful website.
It's of particular note, that the .com variant of their name appears to currently be available for sale on the DAN.com domain name marketplace by an anonymous seller.
---
This picture was shared by croc 6 months and 4 weeks ago.
JPG iPhone 12 mini 1008 × 756
EXIF Explorer

| | |
| --- | --- |
| File Type | JPEG |
| File Type Extension | jpg |
| MIME Type | image/jpeg |
| JFIF Version | 1.01 |
| Exif Byte Order | Big-endian (Motorola, MM) |
| Make | Apple |
| Camera Model Name | iPhone 12 mini |
| Orientation | Horizontal (normal) |
| X Resolution | 72 |
| Y Resolution | 72 |
| Resolution Unit | inches |
| Software | Photo 2.0.11 |
| Modify Date | 2022:05:23 20:20:12-04:00 |
| Host Computer | iPhone 12 mini |
| Tile Width | 512 |
| Tile Length | 512 |
| Exposure Time | 1/60 |
| F Number | 1.6 |
| Exposure Program | Program AE |
| ISO | 64 |
| Exif Version | 0232 |
| Date/Time Original | 2022:05:23 20:20:12.483-04:00 |
| Create Date | 2022:05:23 20:20:12.483-04:00 |
| Offset Time | -04:00 |
| Offset Time Original | -04:00 |
| Offset Time Digitized | -04:00 |
| Shutter Speed Value | 1/60 |
| Aperture Value | 1.6 |
| Brightness Value | 3.236389481 |
| Exposure Compensation | 0 |
| Metering Mode | Multi-segment |
| Flash | Off, Did not fire |
| Focal Length | 4.2 mm (35 mm equivalent: 26.0 mm) |
| Subject Area | 2015 1511 2323 1393 |
| Sub Sec Time Original | 483 |
| Sub Sec Time Digitized | 483 |
| Exif Image Width | 1008 |
| Exif Image Height | 756 |
| Sensing Method | One-chip color area |
| Scene Type | Directly photographed |
| Exposure Mode | Auto |
| White Balance | Auto |
| Focal Length In 35mm Format | 26 mm |
| Lens Info | 1.549999952-4.2mm f/1.6-2.4 |
| Lens Make | Apple |
| Lens Model | iPhone 12 mini back dual wide camera 4.2mm f/1.6 |
| Composite Image | General Composite Image |
| XMP Toolkit | XMP Core 6.0.0 |
| Metadata Date | 2022:05:25 12:31:13-04:00 |
| Creator Tool | Photo 2.0.11 |
| Current IPTC Digest | 7a4b8b743e4b05bfcda437193cd7d8dd |
| Coded Character Set | UTF8 |
| Application Record Version | 2 |
| Digital Creation Time | 20:20:12 |
| Digital Creation Date | 2022:05:23 |
| Date Created | 2022:05:23 |
| Time Created | 20:20:12 |
| IPTC Digest | 7a4b8b743e4b05bfcda437193cd7d8dd |
| Profile CMM Type | Apple Computer Inc. |
| Profile Version | 4.0.0 |
| Profile Class | Display Device Profile |
| Color Space Data | RGB |
| Profile Connection Space | XYZ |
| Profile Date Time | 2017:07:07 13:22:32 |
| Profile File Signature | acsp |
| Primary Platform | Apple Computer Inc. |
| CMM Flags | Not Embedded, Independent |
| Device Manufacturer | Apple Computer Inc. |
| Device Attributes | Reflective, Glossy, Positive, Color |
| Rendering Intent | Perceptual |
| Connection Space Illuminant | 0.9642 1 0.82491 |
| Profile Creator | Apple Computer Inc. |
| Profile ID | ca1a9582257f104d389913d5d1ea1582 |
| Profile Description | Display P3 |
| Profile Copyright | Copyright Apple Inc., 2017 |
| Media White Point | 0.95045 1 1.08905 |
| Red Matrix Column | 0.51512 0.2412 -0.00105 |
| Green Matrix Column | 0.29198 0.69225 0.04189 |
| Blue Matrix Column | 0.1571 0.06657 0.78407 |
| Red Tone Reproduction Curve | (Binary data 32 bytes, use -b option to extract) |
| Chromatic Adaptation | 1.04788 0.02292 -0.0502 0.02959 0.99048 -0.01706 -0.00923 0.01508 0.75168 |
| Blue Tone Reproduction Curve | (Binary data 32 bytes, use -b option to extract) |
| Green Tone Reproduction Curve | (Binary data 32 bytes, use -b option to extract) |
| Image Width | 1008 |
| Image Height | 756 |
| Encoding Process | Baseline DCT, Huffman coding |
| Bits Per Sample | 8 |
| Color Components | 3 |
| Y Cb Cr Sub Sampling | YCbCr4:2:0 (2 2) |
| Aperture | 1.6 |
| Image Size | 1008x756 |
| Lens ID | iPhone 12 mini back dual wide camera 4.2mm f/1.6 |
| Megapixels | 0.762 |
| Scale Factor To 35 mm Equivalent | 6.2 |
| Shutter Speed | 1/60 |
| Date/Time Created | 2022:05:23 20:20:12 |
| Digital Creation Date/Time | 2022:05:23 20:20:12 |
| Circle Of Confusion | 0.005 mm |
| Field Of View | 69.4 deg |
| Hyperfocal Distance | 2.27 m |
| Light Value | 7.9 |