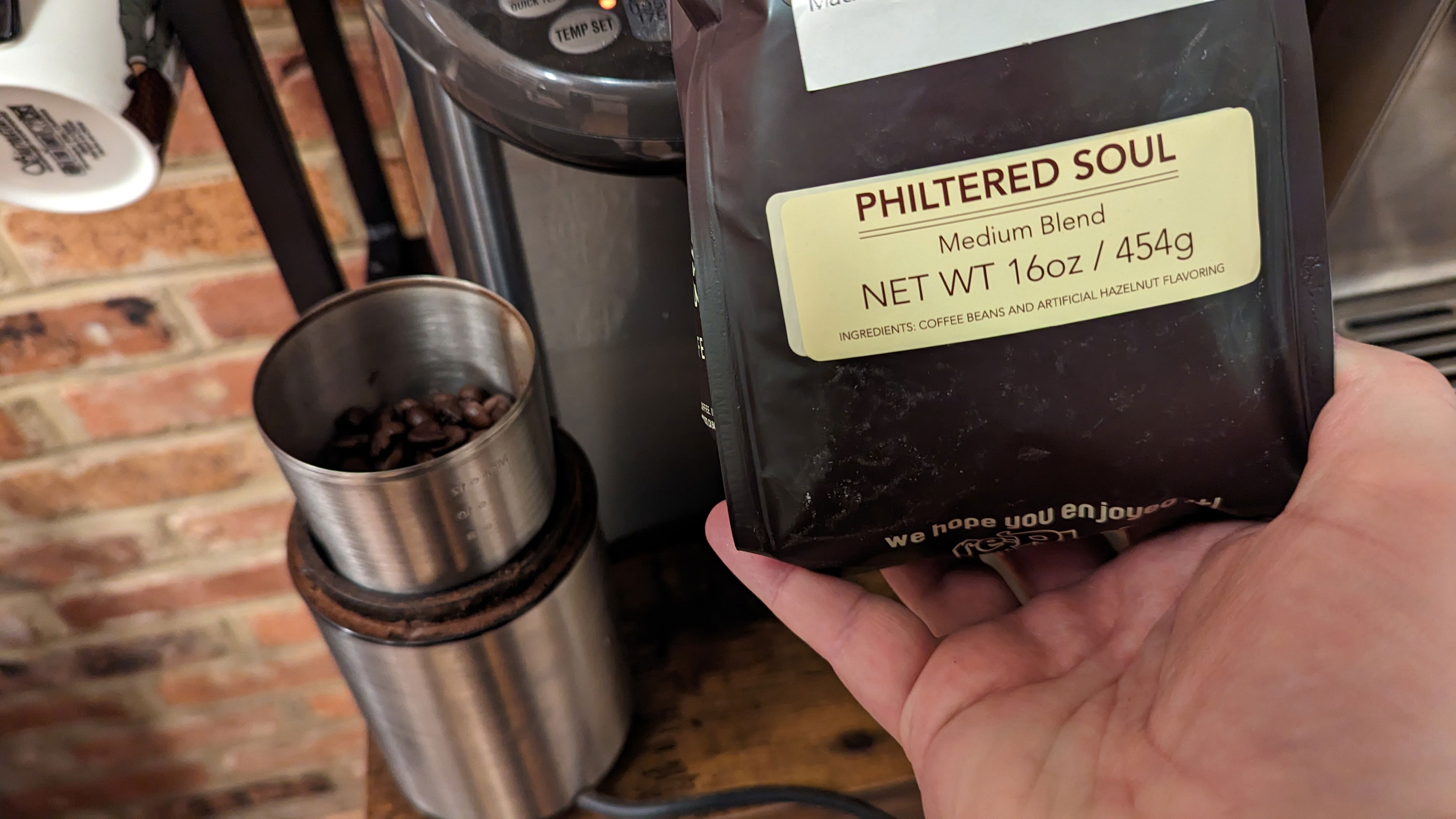 Getting near the end of our Philz coffee beans. The last bag we were able to purchase in-store before they closed the last of the DC stores. RIP Philz.
Pic of me holding a bag of Philtered Soul coffee beans from Philz in front of the bean grinder.
---
This picture was shared by notunremarkable 8 months and 2 days ago.
JPG Pixel 6 4032 × 2268
EXIF Explorer

| | |
| --- | --- |
| File Type | JPEG |
| File Type Extension | jpg |
| MIME Type | image/jpeg |
| Exif Byte Order | Little-endian (Intel, II) |
| Make | Google |
| Camera Model Name | Pixel 6 |
| Orientation | Horizontal (normal) |
| X Resolution | 72 |
| Y Resolution | 72 |
| Resolution Unit | inches |
| Software | HDR+ 1.0.514217843zd |
| Modify Date | 2023:03:28 05:57:22.865-04:00 |
| Y Cb Cr Positioning | Centered |
| Exposure Time | 1/40 |
| F Number | 1.9 |
| Exposure Program | Program AE |
| ISO | 935 |
| Exif Version | 0232 |
| Date/Time Original | 2023:03:28 05:57:22.865-04:00 |
| Create Date | 2023:03:28 05:57:22.865-04:00 |
| Offset Time | -04:00 |
| Offset Time Original | -04:00 |
| Offset Time Digitized | -04:00 |
| Components Configuration | Y, Cb, Cr, - |
| Shutter Speed Value | 1/40 |
| Aperture Value | 1.9 |
| Brightness Value | -1.13 |
| Exposure Compensation | 0 |
| Max Aperture Value | 1.9 |
| Subject Distance | 0.244 m |
| Metering Mode | Center-weighted average |
| Flash | Off, Did not fire |
| Focal Length | 6.8 mm (35 mm equivalent: 24.0 mm) |
| Sub Sec Time | 865 |
| Sub Sec Time Original | 865 |
| Sub Sec Time Digitized | 865 |
| Flashpix Version | 0100 |
| Color Space | sRGB |
| Exif Image Width | 4032 |
| Exif Image Height | 2268 |
| Interoperability Index | R98 - DCF basic file (sRGB) |
| Interoperability Version | 0100 |
| Sensing Method | One-chip color area |
| Scene Type | Directly photographed |
| Custom Rendered | Custom |
| Exposure Mode | Auto |
| White Balance | Auto |
| Digital Zoom Ratio | 0 |
| Focal Length In 35mm Format | 24 mm |
| Scene Capture Type | Standard |
| Contrast | Normal |
| Saturation | Normal |
| Sharpness | Normal |
| Subject Distance Range | Macro |
| Lens Make | Google |
| Lens Model | Pixel 6 back camera 6.81mm f/1.85 |
| Composite Image | Composite Image Captured While Shooting |
| Compression | JPEG (old-style) |
| Thumbnail Offset | 1112 |
| Thumbnail Length | 19037 |
| XMP Toolkit | Image::ExifTool 12.16 |
| Has Extended XMP | 4036F395021120E85C6D663911793448 |
| Shot log data | SERSUALvZDVtXnAeLOrjQ5jerpuUCBa+gvinKnl+dRh1Jl1dujWld9Ookpyxvix/ZXqpdkTOvmyjSwtBl2RfulahyR1NtWnw1LUphdIuNOL3RGMcVmWo1wT/asBlXcJWnBjba+0tpP6BxQi95t1Pe/H1oB67NpQPylYofwNufCtzHHn6U+sarRdtBJo5yqUxW/hDco5ZZGre10UoRR/QcLHUx/ZrSIqQQWRJaZ1ottrhd16gpjQlbo73p3yq+F2iYuS8DwVW5Tu8Hbcnb5+8VNItyIY4qkkkMsbNp4sCqCgOKbMnRhXOLoZ0BBmDhf6WCTGth7HPPsgDppR7lpSzHCZX2ErI1pIpb12ipPK28eiuQ1R0wTRRjC4TcIGprvornkg03o1F131QwXxEXZQNlF9sL5JMXatyGx5WXhLNBe2SCkgCjlfQjZivlvIThtFkB7JVUkxm9DMtRmWo7uA4M0Y9N1Gqvv4rTKZXSr39qEC0qC2Kq/ZPh8pTGYV9FYG4hQM+FWgQqyPRq94vvw6LvSC2UeF/MvO5SbYgwY2Nr9SgQhXkCDIJfdWDP252KU9hC0VVGbCUNSDf7pHnI9M9Ht3PQhQKpYQpA3yiXzO+uo7lmKq/c6vRX0zKCPJEt9IxJrc2RoJ9pWw+1lYes8SBaD13MaLx1es8Z0LaboOYexDScDP78WekWsfhM4UCUlcXPXL5FOdTNF6RLi1HP5EUhb6cpxZn8ic+KhKZpYO03GrYozUkrrfFQQMXvp0RrME2 |
| JFIF Version | 1.02 |
| Profile Version | 4.0.0 |
| Profile Class | Display Device Profile |
| Color Space Data | RGB |
| Profile Connection Space | XYZ |
| Profile Date Time | 2016:12:08 09:38:28 |
| Profile File Signature | acsp |
| Primary Platform | Unknown () |
| CMM Flags | Not Embedded, Independent |
| Device Manufacturer | Google |
| Device Attributes | Reflective, Glossy, Positive, Color |
| Rendering Intent | Perceptual |
| Connection Space Illuminant | 0.9642 1 0.82491 |
| Profile Creator | Google |
| Profile ID | 75e1a6b13c34376310c8ab660632a28a |
| Profile Description | sRGB IEC61966-2.1 |
| Profile Copyright | Copyright (c) 2016 Google Inc. |
| Media White Point | 0.95045 1 1.08905 |
| Media Black Point | 0 0 0 |
| Red Matrix Column | 0.43604 0.22249 0.01392 |
| Green Matrix Column | 0.38512 0.7169 0.09706 |
| Blue Matrix Column | 0.14305 0.06061 0.71391 |
| Red Tone Reproduction Curve | (Binary data 32 bytes, use -b option to extract) |
| Chromatic Adaptation | 1.04788 0.02292 -0.05019 0.02959 0.99048 -0.01704 -0.00922 0.01508 0.75168 |
| Blue Tone Reproduction Curve | (Binary data 32 bytes, use -b option to extract) |
| Green Tone Reproduction Curve | (Binary data 32 bytes, use -b option to extract) |
| Image Width | 4032 |
| Image Height | 2268 |
| Encoding Process | Baseline DCT, Huffman coding |
| Bits Per Sample | 8 |
| Color Components | 3 |
| Y Cb Cr Sub Sampling | YCbCr4:2:0 (2 2) |
| HDRP Maker Note | (Binary data 53787 bytes, use -b option to extract) |
| Aperture | 1.9 |
| Image Size | 4032x2268 |
| Lens ID | Pixel 6 back camera 6.81mm f/1.85 |
| Megapixels | 9.1 |
| Scale Factor To 35 mm Equivalent | 3.5 |
| Shutter Speed | 1/40 |
| Thumbnail Image | (Binary data 19037 bytes, use -b option to extract) |
| Circle Of Confusion | 0.009 mm |
| Depth Of Field | 0.04 m (0.23 - 0.27 m) |
| Field Of View | 73.7 deg |
| Hyperfocal Distance | 2.94 m |
| Light Value | 3.9 |