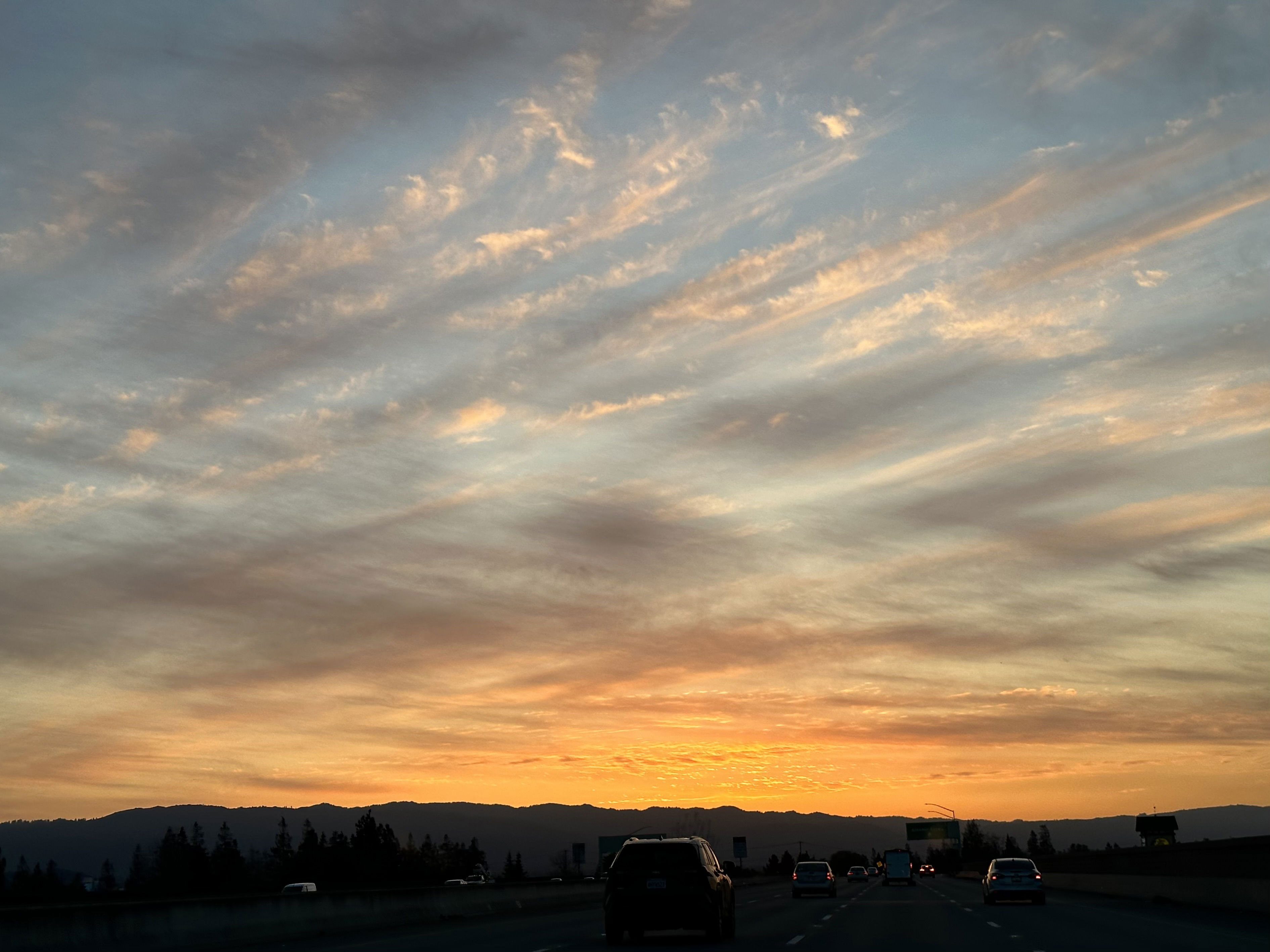 We don't get pretty sunsets in the Bay Area very often but when we do I will risk my life by taking photos of them while driving on the highway.
Alt text: Sunset behind the Santa Cruz Mountains.
---
This picture was shared by jmj 8 months and 3 weeks ago.
JPG iPhone 14 Pro 3782 × 2836
EXIF Explorer

| | |
| --- | --- |
| File Type | JPEG |
| File Type Extension | jpg |
| MIME Type | image/jpeg |
| JFIF Version | 1.01 |
| Exif Byte Order | Big-endian (Motorola, MM) |
| Make | Apple |
| Camera Model Name | iPhone 14 Pro |
| Orientation | Horizontal (normal) |
| X Resolution | 72 |
| Y Resolution | 72 |
| Resolution Unit | inches |
| Software | 16.3.1 |
| Modify Date | 2023:03:17 19:16:52-07:00 |
| Host Computer | iPhone 14 Pro |
| Tile Width | 512 |
| Tile Length | 512 |
| Y Cb Cr Positioning | Centered |
| Exposure Time | 1/513 |
| F Number | 1.8 |
| Exposure Program | Program AE |
| ISO | 64 |
| Exif Version | 0232 |
| Date/Time Original | 2023:03:17 19:16:52.150-07:00 |
| Create Date | 2023:03:17 19:16:52.150-07:00 |
| Offset Time | -07:00 |
| Offset Time Original | -07:00 |
| Offset Time Digitized | -07:00 |
| Components Configuration | Y, Cb, Cr, - |
| Shutter Speed Value | 1/513 |
| Aperture Value | 1.8 |
| Brightness Value | 7.137415015 |
| Exposure Compensation | 0 |
| Metering Mode | Multi-segment |
| Flash | Off, Did not fire |
| Focal Length | 6.9 mm (35 mm equivalent: 48.0 mm) |
| Subject Area | 2017 1508 1161 665 |
| Run Time Flags | Valid |
| Run Time Value | 2151947782477666 |
| Run Time Scale | 1000000000 |
| Run Time Epoch | 0 |
| Acceleration Vector | -1.052061677 0.02130658739 0.3045168221 |
| Content Identifier | CCA86EA5-DEB4-415A-A538-7D584920F283 |
| Warning | [minor] Bad format (16) for MakerNotes entry 15 |
| Sub Sec Time Original | 150 |
| Sub Sec Time Digitized | 150 |
| Flashpix Version | 0100 |
| Color Space | Uncalibrated |
| Exif Image Width | 4032 |
| Exif Image Height | 3024 |
| Sensing Method | One-chip color area |
| Scene Type | Directly photographed |
| Exposure Mode | Auto |
| White Balance | Auto |
| Focal Length In 35mm Format | 48 mm |
| Scene Capture Type | Standard |
| Lens Info | 2.220000029-9mm f/1.779999971-2.8 |
| Lens Make | Apple |
| Lens Model | iPhone 14 Pro back triple camera 6.86mm f/1.78 |
| Composite Image | General Composite Image |
| MPF Version | 0100 |
| Number Of Images | 2 |
| MP Image Flags | (none) |
| MP Image Format | JPEG |
| MP Image Type | Undefined |
| MP Image Length | 134460 |
| MP Image Start | 1048938 |
| Dependent Image 1 Entry Number | 0 |
| Dependent Image 2 Entry Number | 0 |
| Profile CMM Type | Apple Computer Inc. |
| Profile Version | 4.0.0 |
| Profile Class | Display Device Profile |
| Color Space Data | RGB |
| Profile Connection Space | XYZ |
| Profile Date Time | 2022:01:01 00:00:00 |
| Profile File Signature | acsp |
| Primary Platform | Apple Computer Inc. |
| CMM Flags | Not Embedded, Independent |
| Device Manufacturer | Apple Computer Inc. |
| Device Attributes | Reflective, Glossy, Positive, Color |
| Rendering Intent | Perceptual |
| Connection Space Illuminant | 0.9642 1 0.82491 |
| Profile Creator | Apple Computer Inc. |
| Profile ID | ecfda38e388547c36db4bd4f7ada182f |
| Profile Description | Display P3 |
| Profile Copyright | Copyright Apple Inc., 2022 |
| Media White Point | 0.96419 1 0.82489 |
| Red Matrix Column | 0.51512 0.2412 -0.00105 |
| Green Matrix Column | 0.29198 0.69225 0.04189 |
| Blue Matrix Column | 0.1571 0.06657 0.78407 |
| Red Tone Reproduction Curve | (Binary data 32 bytes, use -b option to extract) |
| Chromatic Adaptation | 1.04788 0.02292 -0.0502 0.02959 0.99048 -0.01706 -0.00923 0.01508 0.75168 |
| Blue Tone Reproduction Curve | (Binary data 32 bytes, use -b option to extract) |
| Green Tone Reproduction Curve | (Binary data 32 bytes, use -b option to extract) |
| Image Width | 3782 |
| Image Height | 2836 |
| Encoding Process | Baseline DCT, Huffman coding |
| Bits Per Sample | 8 |
| Color Components | 3 |
| Y Cb Cr Sub Sampling | YCbCr4:2:0 (2 2) |
| Run Time Since Power Up | 24 days 21:45:48 |
| Aperture | 1.8 |
| Image Size | 3782x2836 |
| Lens ID | iPhone 14 Pro back triple camera 6.86mm f/1.78 |
| Megapixels | 10.7 |
| Scale Factor To 35 mm Equivalent | 7.0 |
| Shutter Speed | 1/513 |
| MP Image 2 | (Binary data 134460 bytes, use -b option to extract) |
| Circle Of Confusion | 0.004 mm |
| Field Of View | 41.1 deg |
| Hyperfocal Distance | 6.16 m |
| Light Value | 11.3 |